Kaiju Noir - Demo
A downloadable game for Windows, macOS, and Linux
Deep beneath the surface of the earth the monsters of ancient times live in a city of stone and corruption. Unwelcome in the light of the sun, they exist in a world shaped by their experiences with humanity but never to be part of it.
In this city of ever-night you take on the role of Detective Caribaras, private investigator of New Monstropolis, as they and their assistant Alixorus struggle to keep their agency running. Until a new client arrives, bringing with her a case that could either lead to wealth, or a watery grave.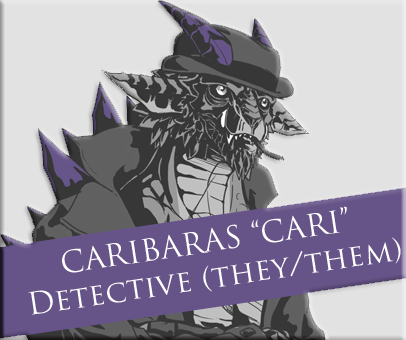 Kaiju Noir is a piece of queer pulp fiction tale of giant monsters in a world rebuilt in humanity's image, for better or worse. Mysteries, corruption, & deception abound in this twisted city of stone.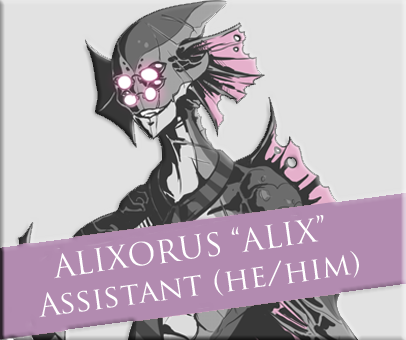 The Kaiju Noir demo comprises the prologue & first two chapters of the visual novel: taking about 20-25 minutes of playthrough. Meet the main players & follow the trail in a monstrous game of kaiju & prey.

Content Warnings: This demo contains swearing, and a non-violent drugging scene. Please be aware of your limits and give this one a miss if that's a problem.

Full game coming 2021
Want to know more about Kaiju Noir, check out our Twitter
Any enquiries to kaijunoirgame@gmail.com
Download
Click download now to get access to the following files:
KaijuNoirDemo-pc.zip
41 MB
KaijuNoirDemo-mac.zip
24 MB
Comments
Log in with itch.io to leave a comment.
really interesting story, and I love the characters species, very original! Five deserved stars :3
Awww, thanks :)
We've got a lot planned for these characters & can't wait to share more of their stories with you all
Ooh, fascinating style. I'm intrigued and i most certainly approve. I'm looking forward to see where this project goes. Should i be anticipating a version/update with colour? Either way, I do quite like this game so keep up the splendid work!
Thank you so much for the kind feedback! :)
Future versions will have a bunch of updates including music & accessibility options, however we're planning to stick with the black & white for character sprites to keep on with the 1930/40s film aesthetic

Each character has their highlight colour, e.g. Cari's purple, Max's green) but at least for this game we're planning to stick with that plan.

It is tempting to put together coloured versions for future projects though, something to think about.
Well, either way it does have a rather unique aesthetic style.
Something that i have yet to see on any other furry VN. And, honestly. It's rather grand.

I'm not one to usually appreciate VN's let alone comment on them, but this one was compelling. Something new, something nice. I adore creators such as yourself. You add some shine to my game style. So, thanks. I appreciate this.

As well as my previous question. About the characters and if they'll be coloured. It Would be pleasant to see. But i completely wont mind if it's preferred in the 40/30's style by you and your team. Anyways, thanks for the hasty reply and once more. Stay safe and good work.

Haha, I feel like I should quote you on this. Such lovely things to say.

We're going to do our best to make an amazing game, we've got lots planned and a lot of story left to tell.


Thrilling news. Literal music to my ears.

So it looks like I'll be keeping a close eye on this one, and I'm looking forward to what you have in mind. :3
Oh, also. I forgot to mention that both the art and art style in this game is exceptional.

Absolutely astonishing in my opinion, perfectly matching with me previous comment where i mentioned the unique style of this game.

You made this game intuitively different from the others, the game's not full of bubbly vibrant colours and smiles. It has a somewhat realistic, mature prospective.


But at the same time, there's the endearing characters. such as Maxora, so sweet with an enchanting appearance. Makes it crisp and fresh. 10 times more immersive.

And that's all i have to say, Or for a matter fact. That's all i have to say for now~
I really appreciate that, and I'll pass it on to the character artist
We're going to be digging a lot deeper into that art style in the full game, including a more cohesive background style (at the moment it's a collection of location photos I've taken plus a bit of google images then passing them through filters to get the right feel), but I really feel like we have something special going with the character art. And for that I 100% thank the artist ( @LluisAbadias on twitter) who somehow gave me exactly what we needed after a single play of the demo I had running.

Getting the right feel to me was important, especially with the tone. As a few people have said "I came for the art, and stayed for the story", and that's what we're trying to do right. There's a balance you need to strike between mature & jaded (or monstrously sarcastic in my way of thinking) and I hope we're getting that right.